Then you have the opportunity to live a personal and professional growth experience while participating in a three to four week volunteer assignment in a developing country!
Leave for Change is all about sharing your skills while supporting and strengthening our overseas partners. Volunteers act as advisors sharing skills with overseas partner staff responding to their needs.
You will gain a wider understanding of international global development issues, gain valuable intercultural experiences, expand your skill set and meet interesting people along the way.
Volunteers must have the required professional qualifications for their assignment, but because of the shorter term length of the assignments we seek volunteers who are very adaptable and able to immerse themselves into their new work environment quickly.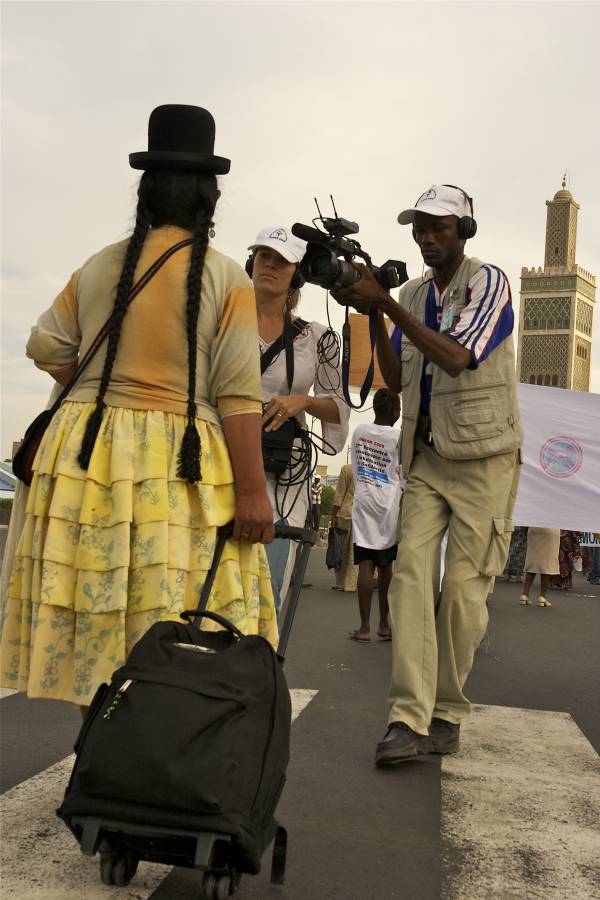 ---
The volunteer cycle
Application

Did you make sure that your employer is a Leave for change partner? Then contact your Human Resources representative to find out about your company's application process.

Selection process

Promising candidates will be be contacted for an interview (either by the employer or Uniterra). Your resume will also be shared with our country office and partners in country for their review and final decision.

Fundraising and outreach

Once you are selected, it is the perfect time to raise awareness about international development, international volunteering and to share with your friends and family information on where you will be volunteering and the kind of work you will be doing. Should you be interested in fundraising, tools will be made available to support your efforts.

Training

Once your final selection is confirmed you will be invited to attend a two-day mandatory pre-departure training. The training is an important opportunity to meet other volunteers and staff, learn more about the Uniterra program's work and your role as a volunteer.

Departure for assignment

Your departure date will be determined based on your's and the local partner's availability and your employer's approval. During your volunteer assignment abroad, you will share your knowledge, skills and expertise within a particular project with one of our local partners.

Monitoring and evaluation

As a key contributor to the implementation of Uniterra programming, you will be engaged in monitoring and evaluation reporting activities.

Return to Canada

After your return to Canada, you will be invited to create your own outreach activities to raise awareness about the importance of international cooperation. You will also be invited to take part in a debriefing of your experience. We look forward to hearing your stories and talking to you about how you can stay engaged with Uniterra in Canada!
How do I apply?

First, find out about your company's application process.

Please visit the current advertised positions online. If you do not see a position that matches your skill-set, we encourage you to apply anyways as other opportunities are always available. The listed positions represent a small percentage of the skills and knowledge from which our local partner organizations could benefit.

If you are selected for an interview, Uniterra staff will provide you with additional informational about the possible positions that would match your skills and experience.

What do Leave for Change volunteers do?

Leave for Change is all about capacity-building. This means volunteers train others in their field of expertise. Volunteers do not act as employees, but as advisors who transfer skills to local staff so as to build their host organization's capacity in a certain area.

Can spouses or significant others participate?

No, it is not possible for spouses or significant others to participate.

What will my accommodation be like?

Accommodations will be consistent with local standards, they will be safe, clean and basic.

Can I make stopovers to and/or from the country I will be volunteering in? Can I extend my stay?

Uniterra will issue the airline tickets with no stopovers or extensions built in. The Government of Canada's, which finances the Uniterra program, does not allow volunteers to go in advance of their assignment or to extend their stay following the completion of their assignment. For reasons of security and legal responsibility, volunteers can not make changes to their flight itinerary, even if the volunteer covers the cost of changing their plane ticket. There will be no exceptions to this rule.

Do I have to pay for part of the travel costs?

In many cases, you do not have to pay as your employer has accepted to cover part of the costs and Uniterra covers the rest. In other cases, the employer shares its portion of the costs with its employees to make the opportunity available to more employees. In those cases, you may be asked to fundraise your contribution. Uniterra will provide you with tools to support your fundraising efforts. Your employer will clarify the approach during the recruitment process.

Pre-departure training, vaccinations, visas, flights, lodging, a per-diem for food and local travel required for work are included.

In case of accident or illness while I am abroad, am I insured?

Yes. The Uniterra program provides all its volunteers with an insurance policy that includes important items such as hospitalization and medical evacuation, reimbursement of medication and vaccinations.

Is there an evacuation policy in case of serious problems in the host country?

Yes. We have an office in each of the countries where Leave for Change assignments take place. There is an emergency protocol established in each country. Our staff in the host country are responsible for assisting volunteers in case of serious social, medical or environmental problems in the host country.
A sample of the benefits of the short-term work of Leave for Change volunteers in Nepal.
My time in Vietnam was a life changing event for me. It was both challenging and rewarding and my hope is that I made a difference in some way. Upon leaving Vietnam I quickly realized that although the goal was to make a difference and leave something behind, it was me who walked away having gained so much.
David Croswell, Specialty Representative, Rheumatology, AbbVieCanada.
Went to Hanoi, Vietnam with Bac Thang Long College.
During the summer of 2015 I spent a month in Vietnam as a Digital Image Management Advisor. My professional background began in still photography and moved into filmmaking and video installation and I was very pleased to offer my services to the Uniterra program. My mandate involved photographing Leave 4 Change volunteers working with students and partner organizations in the Mekong Delta and helping the Ho Chi Minh City College of Economics conceive and produce promotional videos for their website. It was an incredible experience on both personal and professional levels.
See more at: http://blogue.ceci.ca/author/jeffwinch/
Jeff Winch
On June 11th I will be leaving for Matara, Sri Lanka to participate in the Leave for Change program through Uniterra and sponsored by Sovereign. I will be volunteering with The Women Entrepreneurship Program (WEP) whose objective is to increase the income of self-employed women in the Southern region through microfinancing. Thank you for checking out my blog, I am excited to share this journey with you!
Robin Shufelt, AVP Technology & Cyber​, The Sovereign General Insurance Company
Went to Matara, Sri Lanka with Women Entrepreneurship Project / INDECOS